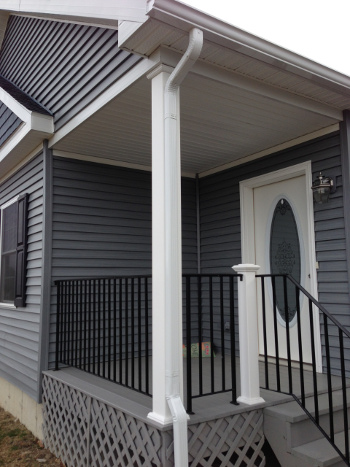 Albany Seamless Gutter Systems
Malta Seamless Gutters is a fully licensed and insured family owned and operated independent contractor specializing in the installation and maintenance of gutters and downspouts. With more than 15 years experience installing, repairing and cleaning out gutter systems in the upstate New York area. We are knowledgeable and familiar with the type of issues and concerns you are likely to have and would like to apply that knowledge in solving your gutter needs. So if you are looking for a professional company that can provide you with quality gutter service you have found one, us.
The importance of a gutter system in protecting your home from costly repairs is indisputable. Without a functioning gutter system your roof can incur costly damage as well as your foundation and expensive landscaping.
Contact us ASAP to come out and provide you with a free quote. We are a respectful and confident company. We do not feel the need to pressure you into selecting a gutter professional but instead have the confidence in our work and personal skills to be able to speak with you to address your needs in a comfortable manner and come up with a resolution for your home that will work for you.
We are prepared to assist you with your:
Gutter System Installation
Gutter cleaning of debris and backups
Downspouts
Gutter Protection Systems
Heat Cables to Manage Ice
If you are not sure about your existing gutter system have us come out and give you an assesment of its effectiveness. There is a possibility that you may only need to repair a specific section of your gutter if the rest of the system is working. Sometimes new downspouts are all it takes to get a system functioning at 100%
Our Service Areas:

Albany | Ballston Spa | Clifton Park | Colonie | Latham | Loudonville | Malta | Niskayuna | Saratoga Springs | Scotia & Glenville | Rexford |


If your area is not listed contact us for service