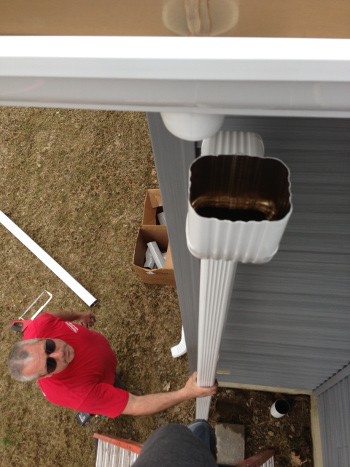 Ballston Spa Gutter Solutions
Ballston Spa and Ballston Lake homes are right in the middle of our service area. We have been performing gutter installations in this area for over 15 years. We know what challenges you face as a home owner and understand how to put together a systems that will ensure proper drainage for your home through our tough local winters, spring and summer rains. Choose a local company that not only serves but lives in your community. Call or email us today for a quote.
Water penetration to either your roof or foundation can become a dangerously corrosive threat to any home because of its ability to cause many deterioration problems. With this deterioration comes serious repairs, and with serious repairs comes serious dollars. Therefore it is essential that you have an efficient drainage system in order to protect your home. The best drainage system out there today is seamless gutters. When water penetrates and builds up it can create mildew, mold and stains. Channeling water away from your home with seamless gutters and well placed downspouts is the way to protect both your home and landscaping.
Choosing a seamless gutter system over traditional sectional gutters ensures that you have less possible points of failure along your system. Modern hanging techniques for seamless gutters are also more secure than the techniques used in the past and ensure that neither the fascia or roof is damaged by big spikes while hiding the hangers from view, allowing for an aesthetically pleasing look to your home. A home improvement like a gutter system not only protects your home but adds value to it.
Our Service Areas:

Albany | Ballston Spa | Clifton Park | Colonie | Latham | Loudonville | Malta | Niskayuna | Saratoga Springs | Scotia & Glenville | Rexford |


If your area is not listed contact us for service