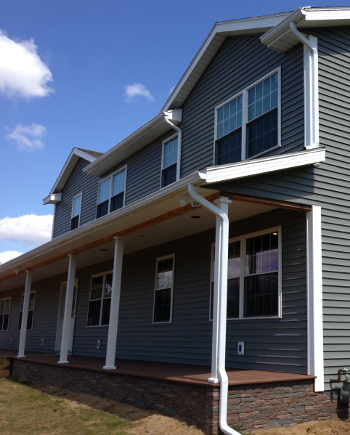 Clifton Park Seamless Gutters
We have been working in the Clifton Park area since long before starting Malta Seamless Gutters. The large residential base of existing and new homes has placed demands on our work for years. My earliest days of installing gutters were done in the Van Patten suburbs in Clifton Park. With that being said I know my way around this style of construction and the overall best ways to pitch gutters for maximum protection to your foundation and landscaping. You can count on us to schedule you in and get your gutter needs taken care of quickly and efficiently. Whether you need new gutters on an existing home, gutter repairs, gutter cleanout serivce or want a quote for installation for new construction we are the right company to call.
We understand how hard it is to find time to take care of your home needs that is why at Malta Seamless Gutters we pride ourselves on our competence and proffesionalism. If you call us to do work for you not only will you be satisfied with our service but you can take comfort in the fact that we will be around if you have concerns or questions with respect to your gutter systems. We are not a fly-by-night company. Please read the reviews of our customers. If you would like references to contact regarding our work we would be happy to provide them for you.
The Clifton Park community is right in our back yard and is an area that we have a vast amount of experience in. Call or Email us today to take a look at your gutter needs. We will provide a free quote that is an honest assesment of what your home needs with respect to protection from water damage. We are capable of using custom color materials to not only protect your home but maintain the aesthetic beauty of your home. Malta Seamless Gutters is prepared to assist you in putting gutters on the new home you are building or on your existing home.
Our Service Areas:

Albany | Ballston Spa | Clifton Park | Colonie | Latham | Loudonville | Malta | Niskayuna | Saratoga Springs | Scotia & Glenville | Rexford |


If your area is not listed contact us for service