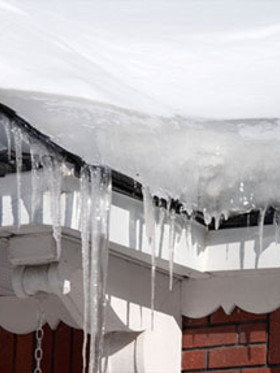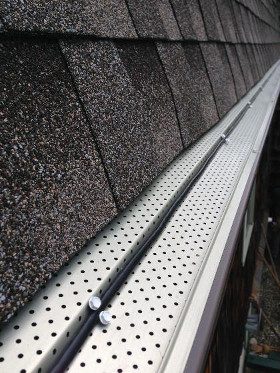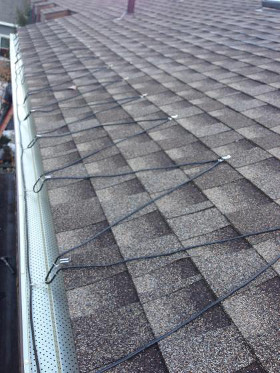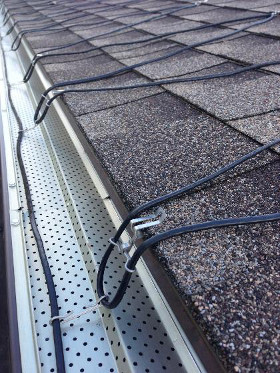 Heat Cables for Ice Dam Prevention
Here in the Northeast our Winters assure us of at least a couple of sizeable snow storms. One result of these storms can be ice dams. We offer our services to install heating cables to prevent the dams from getting started in the first place. Installing heat cables on your roof is a long term solution to a re-occuring problem. This solution can prevent you from costly repairs to your roof or structural damage to your home.
Ice dams build up on snow covered roofs, when snow start to melt from heat escaping the house, but re-freezes along overhangs. Ice dams form on houses with poorly ventilated attics, that allow heat to collect under the roof. As the snow melts and subsequently refreezes before dripping off the roof, it slowly forms a "dam" on the roof's edges, with melted water pooling at its base. As water starts infiltrating under the shingles and into the home, it can result in extensive property damage, including destroyed gutters, damaged walls, dripping ceilings, wet insulation, water damaged windows & doors, wet floors and losses to the contents of the home. The weight of the dams can also pose a threat to the structural integrity of your home, and the infiltrating melting water is a source of rot and mildew for the roof, wall structure, and insulation.
Whether you need new gutters, gutter repairs or are just interested in preventing ice damage to your roof we are the right profesionals to call when your considering installing heating cables. Call us today to come out and give you an estimate.
Our Service Areas:

Albany | Ballston Spa | Clifton Park | Colonie | Latham | Loudonville | Malta | Niskayuna | Saratoga Springs | Scotia & Glenville | Rexford |


If your area is not listed contact us for service