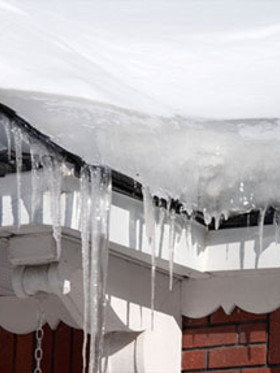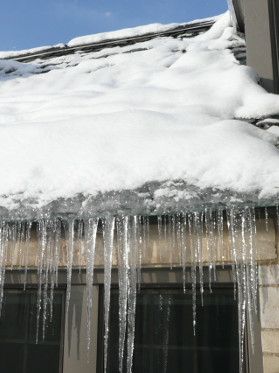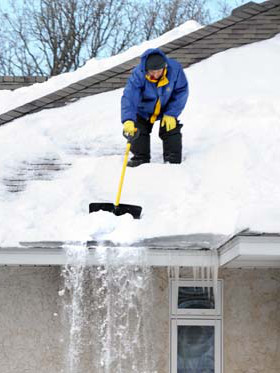 Ice Dam Removal
Ice Dams are the ridge of ice that forms at the edge of a roof. They occur when snow draining from above thaws and the snow below stays colder causing the water to buildup and freeze . Once they start blocking drainage they continue growing in size and weight. If you have roof ice don't play games with it call an expert to safely remove it.
The water that backs up behind the ice damn can leak into the home and cause structural damage to your home. The leaks can run down the interior of the attic into the walls and insulation. A sure sign of ice dams is water stains on your ceiling this usually is the advance warning of expensive home repair to come.
They are typically caused from the escape of heat into the attic of a home. The ventilation, orientation of the sun and the insulation of the attic among other things affect the forming of ice damns.
Once they form the best way from preventing costly damage to your home is to remove them in as timely a manner as possible. We are professionals and can safely maneuver around your roof, eliminating the ice dam without damaging your foor. Call us today for help removing the ice dams from your roof. Not only will we help you now but we can talk about installing heat cables when the snow clears to prevent ice damns from forming again.
Our Service Areas:

Albany | Ballston Spa | Clifton Park | Colonie | Latham | Loudonville | Malta | Niskayuna | Saratoga Springs | Scotia & Glenville | Rexford |


If your area is not listed contact us for service