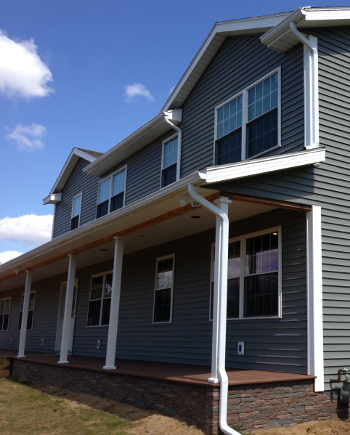 Saratoga Springs Seamless Gutters
When you live in an amazing upstate New York town like Saratoga Springs your home becomes a reflection of the heavily visited tourist town. With living here comes the responsibility to have your home in show condition at all times due to the high amount of traffic the city see's with respect to outside visitors. Our years of experience with various gutter materials and the wide array of colors that we can form gutters in make us the perfect company to solve all of your gutter demands. We can and will provide you with an aesthetically pleasing solution that will enhance your property.
We understand and can solve the most complicated gutter solutions that you can throw at us. From the 1600 square foot cottage to the 8500 square foot mansion we are prepared to provide your gutter solution.
The need for gutters to protect your home and expensive landscaping can not be overlooked or taken lightly. Call us today to provide you with a quote and an understanding of what type of gutter solution will work best for your abode. Keeping up with the Jones's has never been so much fun. Let us help you help yourself.
Our Service Areas:

Albany | Ballston Spa | Clifton Park | Colonie | Latham | Loudonville | Malta | Niskayuna | Saratoga Springs | Scotia & Glenville | Rexford |


If your area is not listed contact us for service