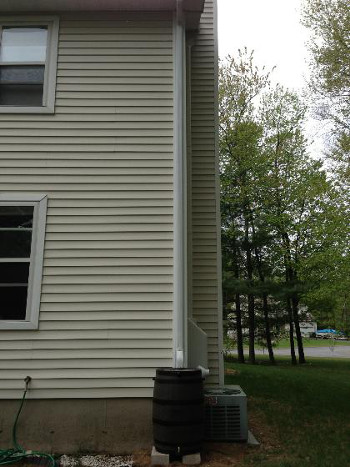 Scotia & Glenville Seamless Gutters
Our familiarity with the Scotia and Glenville area means we know the challenges of servicing the classic homes in the area and of the new neighborhoods that are popping up every year. Our expertise in restoration style work makes us the right choice for your classic home and our modern techniques and product mean that we are the right choice for that new home your building.
Seamless gutter systems are one of the most popular products on the market today for home improvements. Homeowners recognize the value of having a gutter system to protect their home. The first question that comes to mind when a homeowner begins to look at gutter systems is "Why spend the extra money on seamless gutters?" The answer to that is a resounding "Absolutely". Traditional gutters come in fixed lengths of 10 or more feet. Every gap in one of those lengths is a location for a future leak or failure in the mounting of the gutters.
Attaching seamless gutters to a home is done using hidden hangers which are not visible on the outside of the gutter. Stainless steel screws are used rather than the old style spikes. Eliminating the possibility of failure by the spike pulling out and possibly damaging the fascia. This method greatly enhances the appearance of the home at the roof line making for a much nicer curb appeal.
Properly installed seamless gutter systems last a lifetime as aluminum simply does not deteriorate or rust away. With proper maintenance, cleaning out debris twice annually, or a protective guard to keep debris out a seamless gutter system is likely to last a lifetime and prevent other more costly damages to the home.
Feel free to check out our references either here on our site, at Angieslist.com or ask us for a reference sheet that you can call to confirm our high quality work. Know that we are a conscientious family owned business that takes a great deal of pride in our work and customer satisfaction. Call us today for a gutter assessment for your existing gutters or a quote for a new seamless gutter installation.
Our Service Areas:

Albany | Ballston Spa | Clifton Park | Colonie | Latham | Loudonville | Malta | Niskayuna | Saratoga Springs | Scotia & Glenville | Rexford |


If your area is not listed contact us for service