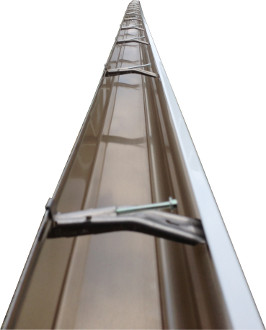 Colonie Rain Gutters
If your home has no gutters or aging traditional gutters it time to start thinking about Malta Seamless Gutters. We make custom gutters that contour to the lengths of your roof. These single run lengths eliminate seams and therefore leaks. Our specialized aluminum extrusion machine forms each length specifically for your home. What this means to you is a stronger gutter system that is well equipped to move rainwater and snow-melt away from your foundation.
Don't get caught out there with an expensive bill for repairs to your foundation that can occur due to rainwater buildup around your home. Remember all that time and money that you spent on your landscaping last summer don't let that get washed away by the spring rains. Start thinking about installing seamless gutters today.
We are a locally owned and experienced business that will provide you with a solution at a fair price. Please contact us today to schedule an estimate for your gutter needs and while your on our site checkout some of our references. We are prepared to assist you in all your gutter needs be it a new installation, repair of your existing gutters or downspouts or just a thorough spring cleanout of your gutters.
Our Service Areas:

Albany | Ballston Spa | Clifton Park | Colonie | Latham | Loudonville | Malta | Niskayuna | Saratoga Springs | Scotia & Glenville | Rexford |


If your area is not listed contact us for service